Top Ten Tuesday
Top Ten Tuesday is a meme by The Broke and the Bookish where fellow book bloggers, and anyone who wants, can contribute to a themed top ten list.  Today's list is supposed to include: Ten Books I Enjoyed Recently (2015) That Were Outside my Comfort Zone.
 My Favorite Genre: Urban Fantasy
I'll admit that I still pretty much stick to one genre, urban fantasy, but occasionally I do find things because I'm browsing through GoodReads or the library catalog that are surprisingly good reads even though they are  outside my comfort zone. Not surprisingly, I don't have ten books I've read outside my comfort zone. I have a limited amount of time I can devote to reading, and so I tend to go for what I know I will find enjoyable rather than branching out.
Top Five Books I Enjoyed that were Outside My Comfort Zone in 2015
The Aeronaut's Windlass (The Cinder Spires, #1) by Jim Butcher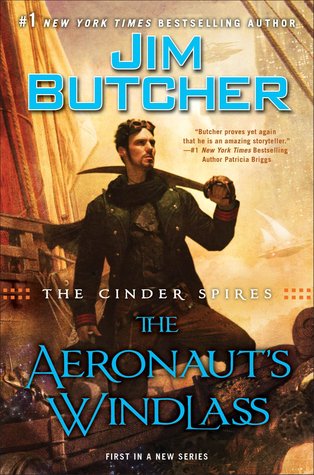 While I have devoured Butcher's Dresden Files series over the years, I was not able to get into his Codex Alera novels, I generally do not enjoy high fantasy and hard to pronounce (i.e. read and keep them straight) names. But, I decided to give Aeronaut's Windlass a try, and I ended up really engaging in the story. It is about a world above the clouds where wood is scarce and some lucky people can understand the language of Cats. Espionage, intrigue, and fighting among the different Spires adds excitement to an interesting setting.
Amy Poehler's memoir, Yes Please is outside my comfort zone because I generally do not read non-fiction. However, I do try to read one memoir/non-fiction book a year and chose Yes Please for 2015. I was expecting great things, because I just adore Amy Poehler and I was not disappointed, she wrote a great book. I love her honesty and vulnerability, she is amazing and human and I want to go to there and meet her some day. You can read my full review here.
The Name of the Wind (The Kingkiller Chronicle, #1) by Patrick Rothfuss
As, I mentioned above, I am not usually a fan of high fantasy. I could not finish a very famous book series that is now a very famous television series because it was just too high fantasy. I find that a lot of characters in high fantasy are not easy for me to relate to and I have a hard time enjoying a story for the sake of the story, I need to me able to emotionally connect and feel safe in that connection. That rarely happens in high fantasy, usually the life of the main character is in such danger, that I cannot connect and therefore end up hating the character and the story. However, I really connected to Kvothe. This might be partly because as he is telling his life story I know he makes it out, at least alive if not unharmed. I felt safe emotionally connecting to him, though I despised his choice in women. He may be unpredictable and a hothead, but he had a good heart and he watched out for his friends. You can read my full review here.
Floors is a middle grade children's book, and very much outside my comfort zone. I tried a few young young adult books last year and this was my favorite. Leo, the main character, is growing up and learning more and more about the Whippet Hotel where he lives, plus he has a mystery  to solve. What's not to like?! It was a fun read, that was well written, had a couple of too goofy moments to be real, but enough real life that I connected to the story even though I am far beyond middle grade years. You can read my full review here.
Unnatural Acts (Dan Shamble, Zombie PI, #2) by Kevin J. Anderson
I like urban fantasy, which I would say this falls under, but it is a very specific subset, the zombie genre, and that I do not read a lot of. I have tried a few and they are OK, but I really like the Dan Shamble, Zombie P.I. series. I'm not always a fan of the details about zombie bodily upkeep, 'cause I find that icky, but Dan Shamble, his lawyer work partner, and ghostly girlfriend are great characters. Each book has a unique story line while also exploring the reason Dan was killed and became a zombie. It's a zombie mystery sub-sub genre and I really enjoy reading these books. Plus, the lawyer in this book is a smart woman, who does good, and is a refreshing change of pace in how authors like to write about lawyers. So, I like that part of it too.