Last year because I was reading law book and studying I did not even reach my own book challenge, so I set the sights low for myself this year, hoping to get back on track and start reading more. I challenged myself to read 30 books and I've read 39, plus I'm halfway through two more books and hope to finish them before the year is out. I'm very pleased with my accomplishment of meeting and exceeding my goal, as well as, tackling some of my "Want to Read" list and never ending tbr pile.
Here are my favorite books of 2015 in no particular order.
Name of the Wind by Patrick Rothfuss is an amazing book. I can't believe it took me this long to track down a copy and ready it. Read my review here.
The Ocean at the End of the Lane by Neil Gaiman is a perfectly intricate plot that plays across years and worlds. A must read. My review is here.
InterWorld is another wonderfully written book by Neil Gaiman, this time with a co-author Michael Reaves, about multiple universes and how the tiny decisions in our lives have rippling affects. Read my review here.
The Magician's Land by Lev Grossman is the final book in his The Magician's Trilogy and is full of flawed characters and wonderful world building. As I said in my review:
"Real life in all its glory and sadness spills itself across the pages and that is the beauty of Grossman's characters. Not that they have magic and spells, but that they have life, and they live it."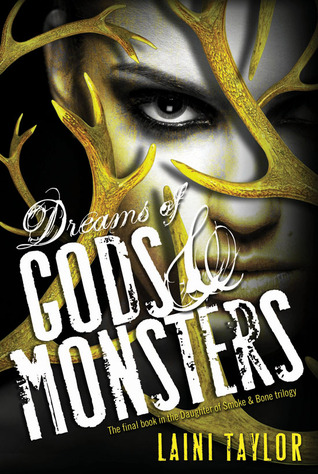 Dreams of Gods and Monsters is the final chapter in Laini Taylor's Daughter of Smoke & Bone trilogy. I actually liked this book the best in the series, which was a wonderful surprise. You can read my full review here. But be warned there may be spoilers about the first two books in the series.
Graveyard Shift by Angela Roquet is a fun light urban fantasy tale about a grim reaper, but the story has depth and the characters are fully developed. But my favorite part of this book is her female characters have actual agency, a nice shift from many of the urban fantasy series I read this year. Read my review here.