I love Amy Poehler ever since she stole my heart in Parks and Recreation.  I think she is amazing, kind, wise, and love her openness about sharing what she has learned from life. Her YouTube channel Smart Girls is wonderful and in particular I love her show Ask Amy where she posts some wonderful pieces of advice.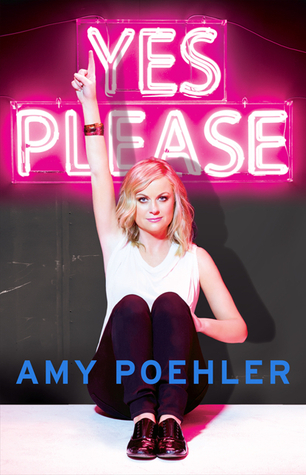 Yes Please is an extension of Amy's wonderful self, where she gives advice, tells tales, and gets her friends and family to share their perspective. I was able to get a copy of the audio book at my library. It was one of the most enjoyable autobiographies that I've listened to.
In Amy Poehler's highly anticipated first book,Yes Please, she offers up a big juicy stew of personal stories, funny bits on sex and love and friendship and parenthood and real life advice (some useful, some not so much), like when to be funny and when to be serious. Powered by Amy's charming and hilarious, biting yet wise voice, Yes Please is a book full of words to live by.
Amy has a good balance of telling unforgettable stories that made me think, sympathize, and appreciate her ability to be vulnerable, as well as spinning satirical pieces about how writing is hard and the amazing funny moments she experienced on SNL. Most touching was her love for her children and her love for life in general that seeps through every moment of her storytelling. I also appreciated that although I'm sure it was painful, she speaks of her divorce with some distance, humor, and a lack of bitterness that is inspiring. Sometimes it is just too easy to be bitter about the traumas that come along in life. I enjoyed her stories that were sneak peaks into behind the scenes with her cast members on the TV shows she's been on and her work with Upright Citizens Brigade, a sketch/improv troupe that she co-founded which now has theaters in two major cities.
I thought Amy did an excellent job as the voice over actor for her own book and I enjoyed the guest appearances of friends and families as they voiced their bits. She left in several  bits in the audio book that were obviously improvised and in the moment, which was lovely. Obviously these bits would not appear in the paper book version, so I do recommend listening to the audio book if you can. I thought it was well produced, well voiced, and had some interesting elements not usually associated with audio books. But, I don't want to spoil the surprises!
I know she complains about writing the book, for most of the book, but she did such a lovely job I hope she writes some more. If you like autobiographies, enjoy Parks and Rec, or want to give a fun audio book a try, check out Yes Please by Amy Poehler.