I know it has been a while since I posted. I've had a very busy summer and fall with my new job, but things are leveling out and I'll be able to devote more time to writing up reviews and posting geeky finds. I've been reading away like the Dickens because my commute is atrocious and the only thing keeping me slightly sane is audio books. I say slightly, because, in spite of really good stories, the horrible drivers that constantly put everyone's life in danger are frequent enough to cause panic attacks and I long for the days when public transportation was a viable option for my work commute. Blech.
Anyway, onto things that are a bit more fun. Like audio books and the ability to borrow them from the library. 🙂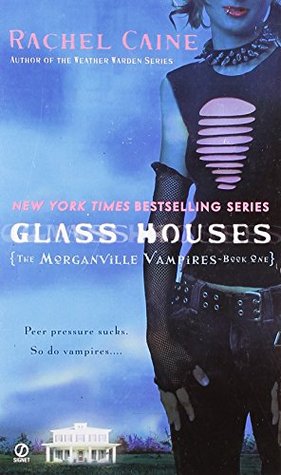 Glass Houses by Rachel Caine is part of the The Morganville Vampires series. While told from Claire Danvers point of view, there are three other main characters, Michael Glass, Shane Collins, and Eve Rosser.  Claire is a bright student who is in college at the age of 16 in small school in Texas (yes, this is why I chose the book). She is being bullied by her dorm mates and so decides to move into off campus student housing with some other older kids where she finds out the sleepy little Texas town is hiding some dangerous secrets.
I thought the college town full of vampires was a fun concept and enjoyed Claire's story. I like how the book is not just another urban fantasy novel, but also deals with complex relationships between the four friends and with Claire and her bully. I did not like that Claire was 16. It needlessly complicates things and, in my opinion, makes Claire another kid who should tell her parents what is going on instead of trying to handle things on her own.  She has loving, smart parents who are concerned about her and she just ignores them. These things do not make her the best role model.
But the story is interesting and I do like other things about Claire and her friends. They are smart, they try to do the right thing, and help each other out. It does get annoying that they do not always go about it the right way. In an attempt to "help" Claire one of the guys traps her in a secret room to talk to her. All he does is talking, but the trapping thing is a huge red flag.  I hope that as the series progresses they learn from their mistakes and become better human beings who use their smarts to actually do the smart, right thing.
Edit: This book was read by Cynthia Halloway. Cynthia did a good job, though her male characters sounded more alike than her female characters, she read with good inflection and dramatization of events.
If you like urban fantasy with a dash of romance and interesting couple relationships this is a fun series to check out. Don't expect the world's greatest role models right off the bat. These kids have some learn' to do.